529 Arts Avenue's Creative Space Holiday Art and Poetry Show
This past Saturday November 26th 2016, 529 Arts Avenue hosted our first group artist showcase called "Creative Space" a showcase featuring both visual art and spoken word/poetry performances. a fun, creative night full of good vibes, people, and atmosphere. However, the 5 hours leading up to our showcase was a different story.
1:00
Gerard and I have completed our to-do checklist for the show, I'm flipping through different tabs answering questions from artists and writers keeping them informed about the showcase. Gerard is nervously joking about our attendance. "ha ha 40 people Manny!" how are we going to fit 40 people in the Loft?" I take moment to look up after a moment of pause trying to switch off formal email talk and reply " well, I think being overbooked is a good thing" we playfully go back and fourth about attendance and space arrangements. Our previous event at the Loft space (before it was converted into the Loft Studio) was 20-25 people max including furniture I had a feeling that we could evenly fit 20-25 more people the loft studio with ease...until Gerard reminded me that were having artists invite guests on top of the local guests who frequent our shows as well...
1:50
Were getting ready to make some rounds around the city to pick up the last of supplies we need for the show. My girlfriend Gabby (who I owe a whole lot for preparations of the show) was doing some shopping for wine and snacks downtown. We head to a local 7/11 to pick up some portable lighting Gerard saw a couple of days ago that he thought would be a great way to spread some additional lighting to the art pieces we add that to our checklist and head out the door.
Checklist:
Portable Lighting

Canvas (4.00)

Hanging strips

pins/thumbtacks
Gerard and I head out to a 7/11 in midtown via bike and walk in I can smell the big bites cooking on the rolling girl and the chatter of tourists moving in and about from the slushie machine and their discount burritos section. I ask Gerard alright where are the lights in an enthusiastic tone excited that our list was small and we were making time early to continue to prep. Gerard confidently walks to the counter and points to the corner and goes right here! to which the corner was empty.
Me and Gerard's collective sigh.
2:15
Gerard's nervous eyes begins to scan the product wall behind the clerk "they were right here" I get a bit nervous myself scanning the product wall not even knowing what I'm visibly looking for before asking if we should survey another 7/11 as we both let out a collective sigh, Gerard instantly spots the portable lights behind the clerk to the top of the wall and shouts there! a couple behind us are startled Gerard's enthusiasm sparks up some casual small talk with the 7/11 clerk as she rings us up. Gerard has a pretty infectious personality you can get drawn into. I quickly answer some more emails and questions about food from Gabby before hopping back on the bike with Gerard and heading to our next destination to pick up hanging strips we head to Jack's 99 cent world and upstairs to their tool section and look for the portable hanging strips.
After about 10 minutes of looking we realize they only had refill strips for the hook hanging strips and not the ones that we need. We both head out of jacks after buying some pins and make our way downtown on 21st and Broadway to Flying Tiger Manhattan's little compact version of Ikea. We quickly make our way through the crowds of fascinated customers and I realize there's no more large canvases. After looking around the store for about 2 more minutes I ask an employee "Hey are there anymore of those cheap 16x20 canvases you guys sell?" No sorry were sold out of those actually...sorry!" I sigh and thank her and report back to Gerard. "Nope sold out here as well..." Gerard stops and ponders where else we should look. Gabby lets me know she's done shopping and is on her way back to the Loft. I look at the time and realize it's already 3:30
3:45
After riding back uptown I quickly debated with myself if we should stop at Blick and buy a single 16x20 canvas for more than what flying tiger were selling for an Drawing canvas for guests. Gerard and I both veto that option but head into Micheals on 6th avenue and check their frames section for hanging strips. We come across large picture hanging strips that are a bit more expensive than the ones we put in our budget. We both realize the last 2 pieces we need to strip to the wall has a lot of weight and we both agree it's better to pay more than be sorry. after rolling our eyes as the hefty price that would have costed a less at K-mart we buy the strips get back on the Bike and head back to the Loft.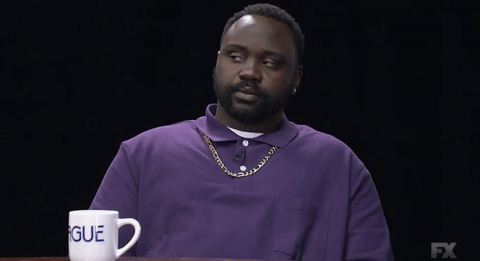 "wait these were like 4 dollars cheaper at K-mart.."
4:15
Back at the loft, Gabby pops through the door and I'm Happy to see her she greets us and her and Gerard continue their playful rivalry! we all take a moment to rest before putting in the elbow grease for the show. Gabby begins to tidy up the loft as we begin to play tetris with our furniture and move things into the back rooms. after hanging up the last few pieces perfectly, We continued to tetris our furniture then got into a talk about our table. We had one of those large circular Ikea tables that extends into a long oval dining table for extra space. After rolling the table into our back room and managing to get a right combination that didn't leave anything falling over or breaking we take a look at the time and realize it's already 5:20
5:25
I took a moment to sit down and create a mock up page for the new featured artist page we'd be debuting at the showcase tonight about artists having a free promotion page on our website for free. after completing the page, I realized 3 things were wrong and not completed. When it got down to 5:45 the door bell rings we all stop and begin to freak out I open the door and it's our first guest. Were not nowhere near ready...
Things that were wrong:
Gerard hadn't finished/printed his art piece (the last art piece to hang)

The Food and wine hadn't been prepped yet.

we hadn't printed labels yet for the art pieces
Us when we heard the first guest ring the bell-
5:30
I politely tell the first guest that were not quite ready yet and that he's a bit early we scurry to finish up preparing me, My sister comes in and helps me out with creating labels for the art pieces. Gabby is cutting cheese and preparing the snack and wine table at speeds faster than I can process. Gerard hurries to finish up his piece on his Ipad and begin printing. I quickly get dressed and head downstairs to tell the guests that we'll need about 10-15 minutes and apologize.
I make my way to the ground floor and I see 3 guests and one of the participating artists sitting I tell them it's going to be a 10-15 minute wait and profusely apologize the guests were really chill about it and I head upstairs.
6:16
we all finish and we look exhausted. Gerard's piece is up and on the wall and we head downstairs to greet our guests soon as we head downstairs to the lobby our 3 guests have multiplied to 16! we take a moment to quickly survey and headcount as we welcome them and apologize for the wait. We head with them into our elevator and take them up tot he Loft studio and as soon as they walk in they are blown away by the space and the art. Gerard quickly throws on some nice Jazz music on his Ipad and people quickly mingle talk, laugh and the vibe changes from exhaustion to a room full of energy and conversation of talent, culture and art.
7:30 and onward-
More guests begins to show up group by group and it energy picked up more. I bounced back and fourth between performers, dancers, magicians, and historians, by 8:30 The Loft Studio was packed and our poets had arrived. Friends, and our Friends at ESA arrived gifting us for our show and becoming friends and beginning an art partnership it was a night of celebration and fun. by 9:00 we began the spoken word and people were captivated by the performances as well as a debut book reading by a recently published author. by 10: we still had guests lingering networking and connecting with each other and us congratulating us for the showcase and that it must be easy! haha boy, if only they knew.
However, I wouldn't have it any other way.
#art #nycart #artevent #artshow #Theloftstudio #events #Gallery #creativespace